Community Gardens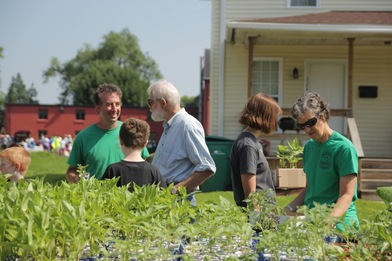 The Macomb Community Gardens is a division of Prairie Hills with garden plots for Macomb citizens on East Wheeler Street. The original community garden seed was planted in 2010 by Western Illinois University Professors Dr. Heather McIlvaine-Newsad, Dr. Joel Gruver and Dr. Rob Porter and several local agencies. The original garden plots were located at the Macomb Park District property on E. University Drive in Macomb.
Prairie Hills stepped in to help in 2011 by submitting and acquiring grant funds to purchase garden tools and a tiller along with a shed to store the equipment. Prairie Hills offered to take the Community Garden under their 501c3 umbrella as a separate division. Now the Community Garden has their Board of Directors, bylaws and operations. Also in 2011, the McDonough County Housing Authority offered access to their property for community gardeners on East Wheeler Street.
Garden plots are free to McDonough County Housing Authority residents and Western Illinois University college students. Plots rent for $20.00 for a 10ft by 10ft space. Any Macomb resident can reserve a garden plot by calling
309-833-4747,
or complete the Application form
/uploads/3/4/5/4/34540057/application_form.pdf
and email it to: prairie@frontier.com or mail it to: 321 W. University Dr. Macomb, IL. 61455. Photo credit Abby Wendle.
For garden plot locations and more information:
/uploads/3/4/5/4/34540057/location_and_information_1.pdf
---