Small Business Loan Program


---
Is this right for you and your Business?
The loan purposes are for the development of new businesses, expansion of existing businesses, creation of employment or saving existing jobs.
Eligible Borrows include corporations, partnerships, sole proprietorship's LLC's, units of government, fire protection districts, water districts and similar public service districts


Use of Funds can be for fixed assets including land, buildings, machinery and new equipment, new construction or renovation of existing facilities, working capital for start-up or existing businesses, pollution control and abatement, transportation services, debt refinancing, feasibility studies and educational institutions. Revolving Line of credit & traditional Agriculture are not included.


Terms are flexible to meet the needs of the borrower typically 5 yr., 7 yr., 10 yr., or 20 yr. depending on amount borrowed and purpose.


Interest rates can be as low as 3%.


Collateral such as inventory, equipment, land, buildings, mortgages, accounts receivable, vehicle titles, fixtures, and personal assets, personal guarantee are required.


Application fee of $100 is required.


Funds are targeted in the counties of Brown, Fulton, Hancock, Henderson, Henry, Knox, Mason, McDonough, Schuyler and Warren. And also the City of Washington Illinois.


Maximum funds per project is $250,000 or 75% of project cost whichever is less.
Get the Application here: /uploads/3/4/5/4/34540057/business_loan_application.pdf

Fill out the Personal Financial Statement form here: personal_financial_statement.doc
Downtown Development & Revitalization Loan Program

---
The downtown revitalization loan program purpose is to increase economic development in west-central Illinois by helping small businesses improve their store-front visibility and infrastructure.
Eligible Borrows include corporations, partnerships, sole proprietorships and LLCs.
Use of Funds can be for façade repair, roofing, windows, tuck pointing, brick replacements, awnings, HVAC or other energy efficiency improvements.
Loan amounts not to exceed $15,000 may be borrowed per business.
Terms are flexible.
Interest rates can be as low as 3%.
Collateral such as inventory, equipment, land, buildings, or vehicle titles is required.
Funds are targeted in the communities of Brown, Fulton, Hancock, Henderson, Henry, Knox, Mason, McDonough, Schuyler and Warren counties. And also the City of Washington Illinois.

Application fee of $100 is required. Closing Costs for mortgages, loan documents, and appraisals are the responsibility of the applicant.

---
Prairie Hills RC&D is here for the Small Business Owners

---
R&R Spa-Lisa Johnson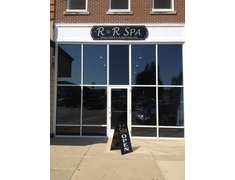 The R&R Spa is dedicated to service and value. All of our licensed specialists sincerely enjoy what we do and it is reflective on the smiles and repeat business of our clients. We promise individual attention and great value for all of our customers.
" I started developing the idea of opening The R&R Spa in May of 2006. I initially stopped into the Macomb Chamber to inquire about information on small business loans available in Macomb. This is where I was put in contact with Prairie Hills RC&D. Since that initial visit with Dave King, my vision was slowing moving to become a reality. Dave was very helpful and patient in guiding me with my business plan and getting all my paperwork in order. 6 ½ years later, I have gone through three expansions and Prairie Hills RC&D has been able to help me with all of them. I have built a very good business relationship with the staff and I know I can count on Prairie Hills RC&D in the future if I should need anymore assistance."
-Lisa Johnson-Owner
The R & R Spa
102 N Side Square
Macomb, IL 61455
(309)833-3401
Email:
therandrspa@live.com
Web:
www.therandrspa.com
---
---
Lending Partners

---
MidAmerica National Bank

MidAmerica National Bank in Canton and Macomb has partnered with Prairie Hills Resource Conservation and Development, Inc. on several occasions over the years to help construct financing for existing and new, upstart businesses when conventional financing would not work. MidAmerica, like other area banks, has many requirements to be able to finance a loan request from a business. Many times those requirements cannot be fully met and help from a development company such as Prairie Hills is the key as to whether a financing package can be put into place or not. This is extremely important as West-Central Illinois does not have a natural draw for larger commercial businesses and corporations looking to locate in this area due to our sparse population and lack of an interstate road system. This means that jobs are not abundant in this area so we have to find options that are not conventional at times to help area businesses start-up or expand so they can secure their current jobs and create additional positions.
Without this type of "out of the box" financing, we would be in danger of our area losing even more jobs and, eventually, see our residents move away leaving the tax bases in our communities is serious trouble. My thanks to Prairie Hills for their help with the financing on the projects MidAmerica National Bank has been able to complete in both our Canton and Macomb markets. Together we hope to keep our business community viable in our areas.
-Bruce Edwards-Senior Vice President
MidAmerica National Bank
Macomb: (309) 833-4100
Canton: (309) 647-5000
bedwards@midnatbank.com
midnatbank.com
|
facebook.com
---
---
MAEDCO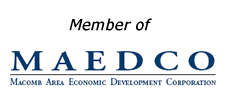 MAEDCO is a not-for-profit, public corporation providing a full range of services to help meet growing business' needs in the city. We provide a storehouse of information designed to help your business develop and expand. MAEDCO provides a variety of services including attraction, expansion, and retention to the business community of Macomb. In addition, MAEDCO provides direct professional and technical assistance to large and small businesses in McDonough County.
For its residents, the city of Macomb and its numerous municipalities offer ample opportunities to live, work, and play. Macomb offers endless entertainment and recreational opportunities within the city. The community provides an excellent education system with both Western Illinois University and Carl Sandburg College as part of the community. Macomb offers a competitive business environment and growing workforce – with a new manufacturing expansion underway today.
Whether its new business development or expanding business and industry it's made easy when working with the Macomb Area Economic Development Corporation. This website is designed to be a useful tool for everyone with up-to-date economic development news and information.

MAEDCO
510 North Pearl • Street Suite 300
Macomb, IL 61455
maedco@wiu.edu
www.maedco.org/
---
---
City of Macomb


" Over the past decade, the City of Macomb has worked very successfully with Prairie Hills Resource Conservation Development (PHRCD) to bring some significant businesses in to our area. These businesses just needed the extra resources that PHRCD could bring to the "table" to make the financing package complete. All of these projects have been important to the business developers, but most importantly these projects have brought improved quality of life offerings, that otherwise might not have been available, to folks in Macomb and the surrounding area."
-Mike Inman- Mayor of Macomb
"The City of Macomb and Prairie Hills RC&D have worked together on a number of important economic development projects over the last several years. The willingness and capability of Prairie Hills RC&D to step up and share a portion of the risk with the City of Macomb has simply made certain loans possible that would perhaps otherwise never have occurred. The City of Macomb has also benefited by a second, independent review of company financials, security position and other related documents as provided through the staff and Board of Prairie Hills RC&D. I have found Mr. King to be thoughtful, professional, practical and easy to work with. I look forward to a continuance of what I believe is a mutually beneficial relationship."
City of Macomb
232 East Jackson St.
Macomb, IL 61455
(309) 833-2558
www.cityofmacomb.com
---